Our many years of team experience in selling B2B products and services can guarantee your successful campaign.
Performance
One operator can typically reach 20 people on the phone per day. This means roughly 400+ reached contacts from 500+ database per month.
Success
10% – 20% of the reached contacts, depending on the project. When working with existing customers, we will be more successful than contacting new customers.
Efficiency
Re-touching the target group with other campaign, while making use of the contact communication history, can increase the success rate of the original database.
How LEADMACHINE works
Preparation
Together we define the campaign steps and goals
We learn your service offer and together we confirm the benefits to the customer
We design a basic script and train our operators
We can analyze the status of your CRM database and suggest processes to keep it up to date
You choose to use a market segment from our own database or your database
Implementation
We launch the campaign including other supporting tools such as email or SMS communication if needed
We continually monitor campaign results and compare them to the plans
You can supervise the operator and see for yourself how the prepared communication works
If necessary, we can modify the process and retrain our operators
You choose how to get the data back. Upload to your CRM or a transfer in the required form
Supporting marketing campaigns
We prepare the necessary visuals or graphics
We create product or registration microsite
We can deliver or help to create a newsletter for a specific campaign
We can provide PPC advertising aligned with the campaign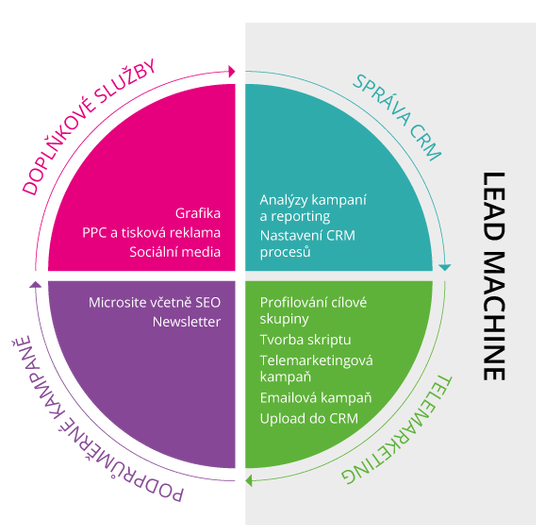 Why LEADMACHINE
Communication based on the value selling methodology
Team of specialists in B2B business
Experience with direct and indirect sales
Communication complemented by other marketing services